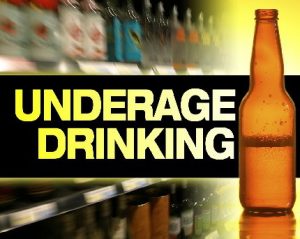 Nov. 25, 2016 — AUSTIN (KXAN) — This holiday season the Travis County Underage Drinking Prevention task force is stepping up their efforts. They're teaching kids why it's dangerous for them to drink at a young age, and what to do if the adult they're with is too intoxicated to drive.
"Peer pressure is pretty vicious and a lot of times kids are encouraged to do things because the bully wants to test it out on them first," said Sue Cole, an educator with the Underage Drinking Prevention Program of Travis County. "Alcohol is so accessible to kids, including in Texas, because a lot of adults consume alcohol and so it's readily available in the home."
Cole travels to different schools in Austin ISD, giving presentations to students. We met with her one Thursday at Kocurek Elementary, where she was giving the presentation to fifth graders.
"The reason we reach kids that are very young in fourth and fifth grade is because it's a good time to plant the seed of facts and information," said Cole. "A lot of times you'd be surprised the information the kids share with us in the classroom."
Some of the stories she hears sheds light on how serious of an issue it is in the community.
 "A child in middle school told me that she'd already decided she's never going to drink again because she'd already been blacking out from alcohol and almost dying from it in middle school."
The task force says they'll even talk about these issues with two and 3 year olds at community fairs. They use coloring books to teach the children age-appropriate information.
Ten-year-old Bryceton West was one of the fifth graders who heard the presentation. "Sometimes it gets a little scary, other times it seems gross, other times it seems sad," said West. "So many people are affected by it, so many people die with it each day."
Cole says they focus a lot on how alcohol can impact the heart and brain development of young people, using age appropriate lessons.
Austin mother Peggy Robinson believes the program is a good thing, but also wants to see parents get education on these issues. "They need their parents a thousand times more when they're teenagers," said Robinson. "Because that is the stage you don't know what direction they're going to go. They need so much guidance."
Her 17-year-old son Michael is a recovering addict. He first got introduced to drugs and alcohol during his freshman year at McNeil High School. "They showed me Xanax and alcohol, and I kind of fell in love with Xanax," says Michael. "It was just a rough time. I hardly remember any of it because I was either blackout drunk or too high to even think about what was going on."
Peggy was left wondering how to get her child help, and how to save his life. "Our home was a constant source of anxiety and stress because we were fighting and he was very uncooperative."
"It was kind of hard asking for help, I was kind of ashamed of it," said Mike. "I didn't want anybody knowing I was an active drug addict and alcoholic, at 16 years old."
But eventually the day came where he asked for help. Now eight months sober, he's a junior a University High School, a sober school for students in recovery.
Michael recently shared his story at a school fundraiser. "Everybody showed me love and support and some of them didn't even know my name," he said to the audience.
Cole says prevention starts with a conversation, and she hopes the words shared during her presentations will give kids strength when they need it most.
For kids who find themselves in a car with a driver that's been drinking, the task force advises them to not to get in car if they smell alcohol, to say why and call someone for a ride. If they're already in the car, advocates advise children to say they're feeling sick or that they have to go to the bathroom so the driver will pull over, then the child can tell an adult or call someone.
And if they have to ride in the car, the task force has tips to make the trip safer:
1. Sit in the back seat
2. Sit in the middle seat if you are alone
3. Put your coat and jacket on if you have one
4. Buckle up your seat belt tight
5. Be quiet, try not to distract the driver
6. If you are asked to sit in the front seat, say "No thanks, the back seat is the safest for kids. I know you want me to be safe, so I'll stay back here"
7. Tell a trusted adult immediately about the unsafe ride.
NUMBER OF DWIs WITH CHILD PASSENGER OFFENSES
2014: 85
2015: 99
2016: 68
Total: 252
Source: Austin Police Department