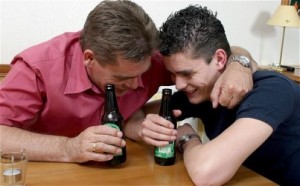 Jan 05, 2017 – ITTECHPOST –  A recent study by University of New South Wales and Alcohol Research Centre study explored the impacts of the so-called European model, where parents introduce alcohol to their children by letting them have sips of alcoholic drinks, to "protect" kids from harm in later life.
The investigators found that those who were given alcohol by their parents are more likely to be drinking full servings of alcohol by the time they are 15 or 16, but are less likely to engage in binge-drinking, compared to children who got alcohol from other sources, such as siblings or older friends.
According to The Sydney Morning Herald, study author Professor Richard Matticksaid that the most important finding from the study of underage kids who are given alcohol are more likely to drink later in life is that "Providing any alcohol actually makes them more likely to drink than not," Prof Mattick said.
The researchers recruited 1,927 adolescents in year 7 from schools in Sydney, Perth and Hobart, and followed them for four years, The Guardian reported, to measure their consumption of alcohol, including binge drinking – meaning, having more than four drinks in one session.  The subjects were also asked who gave them their alcohol supply, and one parent for each child was also surveyed annually.
The study also noted that young women are more likely to drink alcohol at an early age compared to young men.  "If you look at the four years of data, and we've now got six years, there's a very strong trend about underage girls drinking more alcohol than boys." Prof Mattick added.  "We're not really sure why that is yet, and I don't think it's helpful to speculate until we've got more years of data and analysed it."
http://www.itechpost.com/articles/71576/20170105/providing-alcohol-underage-child-increases-likelihood-drinking-later-life.htm