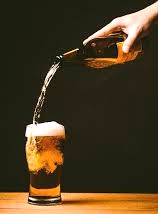 Jan. 12, 2017 – GoodTherapy.org – For people under the legal drinking age, exposure to alcohol marketing increases their level of alcohol consumption, according to new research. The study was published in a supplemental edition of the journal Addiction, alongside other studies exploring alcohol marketing's effects on children.
In almost every region of the world, alcohol is the leading cause of disability and death for young men ages 15-24. In wealthy nations, it is also a leading cause of death and disability for young women of the same age.
The analysis looked at 12 different studies on alcohol marketing and alcohol consumption. Published in 2008 or later, the studies ranged in length from nine months to eight years and involved a total of 35,219 participants from North America, Asia, and Europe. The studies found alcohol marketing exposure levels were similar among younger teens, older teens, and adults.
Each of the studies found an association between alcohol marketing exposure and alcohol consumption. High exposure to advertisements for alcohol was also correlated with binge drinking. Factors such as brand recognition and receptivity to the marketing message further increased the likelihood of drinking.
In another paper published in the same Addiction supplement, experts argue for tighter government regulations on alcohol advertising. They say the mounting evidence of significant youth exposure to alcohol ads suggests "self-regulation" by the industry does not work. They point to a literature review of more than 100 studies that found no evidence that industry self-regulation is effective.
The Alcohol and Tobacco Tax and Trade Bureau monitors alcohol labeling and advertising in the United States. Although the bureau can review ads when a consumer complains, or at the request of an industry representative, it does not pre-review all advertisements. Organizations such as the American Public Health Association have argued alcohol companies deliberately create youth-centered marketing campaigns, which could make teens believe underage drinking is acceptable and expected within their peer groups.
References:
Advertising and promotion of alcohol and tobacco products to youth. (1992, January 1). Retrieved from http://www.apha.org/policies-and-advocacy/public-health-policy-statements/policy-database/2014/07/29/10/58/advertising-and-promotion-of-alcohol-and-tobacco-products-to-youth
Alcohol beverage labeling and advertising. (n.d.). Retrieved from https://www.ttb.gov/consumer/labeling_advertising.shtml
Current controls on alcohol marketing are not protecting youth, warn public health experts. (2017, January 10). Retrieved from https://www.eurekalert.org/pub_releases/2017-01/sfts-cco010617.php
Jernigan, D., Noel, J., Landon, J., Thornton, N., & Lobstein, T. (2016). Alcohol marketing and youth alcohol consumption: A systematic review of longitudinal studies published since 2008. Addiction,7-20. doi:10.1111/add.13591
http://www.goodtherapy.org/blog/alcohol-marketing-may-increase-youth-alcohol-consumption-0112171