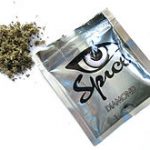 May, 8, 2017 — KVUE —  The National Institute on Drug Abuse (NIH) studies the drug among teens. They found at least 5 percent of high school students admit to using synthetic cannabinoids. That's down from 2011, when it was one out of 9 school children. "I was 14," said Luis Molina, a recovered synthetic cannabinoid user. "It was my birthday when I tried it." Molina is like any other 17-year-old. He wants to fit in — to be liked. At 14, he wanted to be accepted by his older friends.
"At first I didn't know what it was, I thought it was just marijuana," said Molina. It's not marijuana. This drug has no THC. It's chemicals soaked around herbs. Molina said his grades started sliding fast. He said he was in 7th grade taking 8th grade courses. His synthetic cannabinoid use eventually led him to being expelled from four schools.
"Almost ran over a cop," he said. Molina was 15 at the time and said he was on synthetics at the time. "When (the cop) turned on the light, I had just turned on the blunt," said Molina. He isn't alone.
"We're responding to these calls, not as just ODs, which would be a little bit simpler, but it could present as a seizure, it could present as abdominal pain, it could present as altered mentation, it could present as a psychiatric call, it could be an assault," said Captain Darren Noak of Austin-Travis County EMS. ATCEMS started tracking synthetic cannabinoid calls last year.  They noticed their resources getting strained.  "First and foremost is a responsibility to the community," said Commander Mike Benavides with ATCEMS.
The State of Texas recorded 296 incidents last year for the entire state. Their records show Travis County at only 94 people who had dangerous reactions on synthetic drugs last year.  The state uses the Texas Poison Center only. They're only called by patients seeking help.   ATCEMS confirmed calls in our area reach into the hundreds every month.  Last December, it spiked to 339 calls for help. Then, this March, it spiked again to 395.  These are conservative numbers. They're only confirmed when someone admits to the drug use.
"We have to get ready for a patient who is out of control," said Dr. Mark Ackrell, M.D., an ER physician St. David's South.  Synthetic use can turn a person violent.  More hospital emergency room staff must attend one person. Doctors' and nurses' safety are at risk. They are time consumed.  Which means your trip to the ER is impacted.
"We probably have a half-dozen cases here any Friday or Saturday night. The other trauma centers see the same number. That's just in the Austin area alone," said Ackrell. Hospitals don't often test for synthetic cannabinoid because the results take longer than the recovery. "Our standard toxicological screen will not pick it up," said Ackrell. The patient is out by the time it comes back.
"I see it more as a substitute when they can't get their drug of choice," said David Houke LMSW, LCDC, director of programs for Austin Recovery. At Austin Recovery, counselors see people who didn't always call 911.  "If someone is a marijuana smoker and they don't get their marijuana that day, they can switch to K2," said Houke.  Their service is for the entire family. Their clients are allowed to bring their children and stay on site until they're rehabilitated. "This is a story we're seeing constantly," said John O'Neill, vice president and director of clinical services at Phoenix House Austin.
Teens are the clients at Phoenix House Austin. Their program is centered around a strength-based therapy where counselors help teens find their path in life, develop plans and learn what strengths they have outside drugs and alcohol. "The old school way of treating people doesn't work," said O'Neill. "The old school way, for 20 years ago, was really shaming people into stopping. That doesn't work. So, what we do here is start with building the strengths of the individual." Teens can study, learn music, play sports and work out.
"This is something that does strike at the heart of our children and adults. If this was any other epidemic it would be on the map and everyone's talking points," said Benavides.  Molina beat his addiction last year.  "If it wasn't for this place, Phoenix House, I wouldn't be where I'm at today," he said.  He's planning to go to college, grad school and come back to counsel others.  If you have a problem with drugs or alcohol, contact Austin Recovery, Phoenix House or any other rehab facility in Austin. Here is the contact information for Austin Recovery Phoenix House Austin:
Adults/Family – Austin Recovery: 512-697-8600
Teens – Phoenix House Austin: 888-671-9392