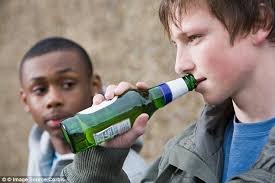 May 12, 2017 — US News World Report — The teen drinking giveaways are everywhere: the red Solo cups, the Snapchat photos of embarrassing selfies and the more-than-conspicuous headaches and vomiting. Though the number of teens who drink is declining, it remains a problem, especially when it comes to binge drinking, or downing more than five drinks within a couple hours.
Drinking among high school students has declined over the years: from 50.8 percent in 1991 to 44.7 percent in 2007, followed by a sharp drop to 32.8 percent in 2015, according to the report.But more than half of these teens – 57.8 percent – were binge drinkers, according to the CDC report. And 43.8 percent of these binge drinkers gulped down eight or more drinks back-to-back.
Moving forward, the Community Preventive Services Task Force suggests "increasing alcohol taxes, regulating alcohol outlet density, and having commercial host liability laws" to curb drinking excessively, according to the report. "Moreover, given the association between youth exposure to alcohol advertising and underage drinking, monitoring and reducing youth exposure to alcohol advertising through the implementation of 'no-buy' lists (i.e., lists of television programming that risk overexposing youth to alcohol advertising based on the industry's self-regulatory alcohol marketing guidelines) might also help reduce underage drinki
ng."
As for the right time for parents to talk about drinking with teens, it could depend on something as obvious as where they live. "I do think that you probably have to start having this conversation by the beginning of high school, but that could be different in some areas," Dr. Gail Saltz, a clinical psychiatry professor at New York Presbyterian Hospital Weill-Cornell Medical College, told CNN. "You have to know your community. That may even be a middle school conversation depending on what kids are doing and how fast the crowd is moving."
Drinking at a young age could spell issues for teens in their adult lives. "The reality is, brains are still developing and drinking before the age 15 or 16 has a very high correlation with developing a problem with alcohol abuse and addiction and that is probably because the brain is really still developing," Saltz also told CNN. Drinking too much causes around 4,300 deaths a year among those under 21, the CDC estimates.