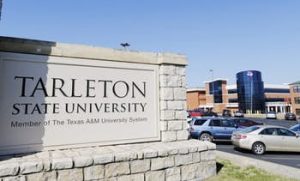 June 15, 2017 – The Dallas News – Twenty-four people were reportedly charged with hazing two months after binge-drinking initiations sent five Tarleton State students to the hospital.  Authorities recently issued 72 warrants for those involved in the incident that left the five intramural softball players with alcohol poisoning, Texan News Service, the university's student publication, reports.
The school, part of the Texas A&M University System, is located in Stephenville, about 80 miles southwest of Fort Worth.
On April 20, officers were dispatched to a complaint about a loud party off-campus, the Stephenville Empire-Tribune reports. They found two students in medical distress, who were taken to a hospital in serious condition, the Fort Worth Star-Telegram reports.  The Police Department then learned about another party that resulted in three people being taken to a hospital.The parties were believed to be "initiation proceedings" for two intramural softball teams, police said.  The five students who were hospitalized were released the next afternoon, the Star-Telegram reports.
https://www.dallasnews.com/news/crime/2017/06/14/24-reportedly-charged-hazing-intramural-softball-initiation-parties-tarleton-state