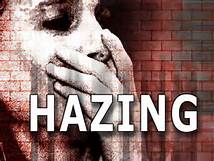 Oct. 11, 2017 — TIME — Tim Piazza spent the early-morning hours of Feb. 3 curled up in pain, clutching his head and trying to stand. Hank Nuwer, a professor of journalism at Franklin College who has researched and written extensively about hazing, has documented 33 hazing deaths involving fraternities nationwide in the past decade. The federal government does not track hazing incidents, but Nuwer, a member of HazingPrevention.Org's founding board of directors, is often cited by hazing experts. In the wake of each death, a familiar pattern repeats: the victim's parents express outrage, students mourn at a candlelight vigil and university leaders promise reforms—but too often, critics say, little changes.
A Beta Theta Pi pledge at Penn State University, Piazza, had been forced to drink a toxic amount of alcohol in an alleged hazing ritual known as "the gauntlet," according to a grand jury report. He then tumbled headfirst down a flight of stairs. Members of the fraternity carried his limp body to a couch, where they poured liquid on his face and slapped him in apparent attempts to wake him up. Security-camera footage later showed Piazza repeatedly falling and hitting his head, and then lying on the ground alone, holding his stomach. By the time fraternity members finally sought medical aid, according to the Centre County, Pennsylvania, grand jury findings, Piazza had suffered traumatic injuries to his brain and spleen. He died the next morning in an intensive-care unit. He was 19.
Piazza became the latest casualty in a disturbingly persistent pattern of fraternity misconduct that has resulted in grievous injuries, numerous lawsuits and dozens of fatalities. Nineteen-year-old pledge Tucker Hipps died in 2014 after falling from a bridge during a predawn run with Clemson University's Sigma Phi Epsilon fraternity, according to a wrongful-death lawsuit filed by his parents, who say he was a victim of hazing, an allegation the fraternity denied before settling the lawsuit this year. Eighteen-year-old Ryan Abele died in 2016 after falling down a flight of stairs when he was ordered to clean the basement of the Sigma Nu fraternity house at the University of Nevada, Reno, while "highly intoxicated," according to a lawsuit filed by his parents; the national fraternity later revoked the chapter's charter for alcohol and hazing violations. And in mid-September, Maxwell Gruver, an 18-year-old Phi Delta Theta pledge, died in what police are investigating as a possible fraternity hazing incident at Louisiana State University.
"[Students are] still dying and still getting sexually assaulted and still getting traumatically injured—and for reasons the fraternity industry could control but chooses not to," says Doug Fierberg, a lawyer who has represented dozens of families in wrongful death and injury lawsuits against fraternities.
To critics, the string of recent deaths raises the question of why it's so hard to reform Greek life in a way that ensures student safety. The answer begins with deep-pocketed fraternity alumni who fondly remember the traditions of their fraternity days and now hold sway over their alma maters. In addition, fraternities owe their staying power to influential national Greek organizations that lobby for lenient policies and to fraternity members who are devoted to what has become a staple of the American college experience. Greek life also has deep roots in powerful institutions: at least four members of President Trump's Cabinet are fraternity alumni, and Supreme Court Justice Neil Gorsuch was a member of Phi Gamma Delta. In Congress, 155 lawmakers are Greek alumni, according to the Fraternity and Sorority Political Action Committee. Additionally, a majority of Fortune 500 executives were members of fraternities, according to data cited in Alan DeSantis' 2007 book Inside Greek U: Fraternities, Sororities and the Pursuit of Pleasure, Power, and Prestige.
Even after the tragedy of a student death, universities often defend the fraternity system as a whole.  "It's not just some kids who want to throw parties, and that's the art of what's so appealing to young men about fraternities," says Lisa Wade, an associate professor of sociology at Occidental College. "It is about power. And they have been very successful at consolidating power all across the country."
How fraternities became a campus institution
The earliest fraternities were founded in the 1800s by young men rebelling against the disciplined schedules and religious strictures of their schools. Modeled after literary societies, the first fraternities hosted debates and required members to write essays, while also providing a social venue to drink and smoke. College presidents largely opposed the exclusive new organizations, but fraternities soon became an inextricable part of campus life. By the mid-1900s, when more women were admitted to previously all-male colleges, Wade says, fraternities began controlling social life as well.
Some fraternities, though, have perpetuated behavior that ranges from risky to criminal. Binge drinking has long been an issue on campuses, but a 2007 study by researchers at the University of Rhode Island found that fraternity members are more likely to drink heavily and have problems with alcohol use than their non-fraternity peers. And 73% of fraternity or sorority members have experienced hazing, according to a 2008 national study by researchers at the University of Maine. Fraternity members have been forced to chug hard alcohol, endure sleep deprivation and complete physical challenges while blindfolded, according to police reports and court documents.
Inside the fight to stop hazing
In the eight months since their son's death, the Piazzas have become vocal opponents of dangerous Greek life. But they're frustrated that their advocacy hasn't prevented teenagers from dying. When Jim heard about Gruver's death at LSU, "my stomach went up in my throat," he says. "I couldn't believe it."
The Piazzas want Penn State to quickly implement policies enforcing strong consequences for fraternity misbehavior, and they want those who played a role in their son's death to be held accountable. But so far they've been disappointed. Centre County District Attorney Stacy Parks Miller initially brought charges—ranging from furnishing alcohol to minors to involuntary manslaughter and -aggravated -assault—against 18 members of Beta Theta Pi, whose chapter has been permanently banned at Penn State.  But a judge reduced the most severe charges and dropped charges entirely in some cases after defense attorneys argued at a hearing that Piazza's death was a tragic accident. Now 14 members are set to stand trial in a few months for lesser charges that include hazing and reckless endangerment.
Parks Miller says she hopes the case pushes universities to change how they respond to problems at fraternities. "Clearly something is seriously broken, and clearly change needs to be made that's significant," she says. "No more lip service that, you know, 'We're going to take this seriously, we're going to make changes, we're going to look out for these students, we're going to take hazing seriously.' That has not happened."  Penn State announced reforms after Tim's death—including an end to the system of Greek self-governance and a zero-tolerance hazing policy that permanently bans any chapter in violation—but the Piazzas believe the measures lack strength and immediacy. They also want the university to take more innovative steps, including providing students with a way to anonymously report hazing in real time.
Why lasting reform is so challenging
University leaders describe the challenge of reforming fraternity culture as a balancing act. Some schools have taken steps to limit alcohol at parties, push back recruitment schedules and mandate anti-hazing workshops, and national fraternity organizations have rolled out required trainings and safety programs. But tragedies have continued to occur with alarming regularity.
West Virginia University President Gordon Gee acknowledges that fraternities can be problematic. He temporarily suspended all Greek life at the school in 2014, when 18-year-old Nolan Burch died after an initiation event while pledging Kappa Sigma, according to police. But Gee recalls his own fraternity experience in Pi Kappa Alpha at the University of Utah as a "very constructive and positive opportunity" and says fraternities -deserve a place on campus.
 "The question ultimately is maybe this: Should you ban fraternities and sororities, or should you come up with a model that allows them to flourish—but in a very constructive way?" Gee says. "I prefer the latter, because I think that is more healthy for both universities and for students."
University of South Carolina President Harris Pastides thinks alumni, who regale younger generations with their college stories and often contribute financially to schools, need to be part of the effort to stop recurring misconduct. He received pushback from both alumni and current students after saying in 2016 that he would consider ending pledging following a student death, though he ultimately decided not to do so.
"I hope you don't think it's easy, even for me as president, to be receiving calls and visits from chapter alumni and, in some cases, donors and great friends of the university, who think we've taken too hard a stand," Pastides says.
Even when those within the fraternity community advocate for reforms, they often face strong opposition. Dave Westol, a consultant who advises fraternities on topics like combating hazing, says he has drawn ire from those who think he's "sharing too many secrets" about his experience decades ago in a Michigan State fraternity. When, as the national executive director of Theta Chi, Westol shortened the fraternity's pledging period in an effort to stop hazing, he says, he began receiving an annual birthday card from an older alumnus who said his birth date would "live in infamy because you are the person who is destroying the fabric of our fraternity."
University administrators and national fraternity leaders admit that reforms will work only if fraternity members follow them. Sigma Alpha Epsilon and Sigma Phi Epsilon both ended pledging in an effort to reduce hazing, but several chapters have since been investigated for hazing violations. The Beta Theta Pi house where Piazza pledged and the Phi Delta Theta house where Gruver pledged were both supposed to be alcohol-free.
In the rare instance when a chapter is banned for good, it can still re-emerge underground. In August, American University in Washington, D.C., expelled 18 students for their involvement in recent hazing incidents, violence and underage drinking as part of an unauthorized fraternity. In September, at Cornell University in Ithaca, N.Y., a white student allegedly affiliated with the Psi Upsilon fraternity—which lost its recognition in 2016 for repeated conduct violations—was accused of assaulting a black student and using racial slurs, according to police. The fraternity says no official member was involved.
In the face of these challenges, critics say the reforms many universities have adopted are too incremental to ensure the safety of the hundreds of thousands of students who participate in Greek life. Without major changes in how fraternities operate, they say, it's only a matter of time before another student dies at another university.
Even after Penn State implemented stricter alcohol policies following -Piazza's death, an 18-year-old student was found unconscious and hospitalized in September after allegedly drinking at Delta Tau Delta. The fraternity, which under the university's new rules was prohibited from serving alcohol at social events until November, has been suspended while the case is investigated.
Such incidents are troubling to those who are still mourning Piazza. Brooks, his former roommate, worries about what will happen as more time passes and the urgency behind hazing reform fades.
"Around the country, people are going to see that there's literal video evidence of hazing happening and still no one got in any real trouble," Brooks says. "In a few years, people are just going to revert back to the way it was before."
http://time.com/4976836/fraternity-hazing-deaths-reform-tim-piazza/