Controlled Party Dispersal is Crucial to Officer Safety
By Carole Wall Metcalf, F.R.I.D.A.Y. -Program Coordinator

Three months ago, two officers suffered head and facial injuries after being hit by rocks and bricks that were being thrown by juveniles at an underage house party. The officers were rescued by fellow officers, who dragged them onto a bus and demanded that the bus driver take off.
The officers were responding for the third time to a house party that was being hosted by a teenager in Brisbane. The party had swarmed to 200 people after being advertised on Facebook.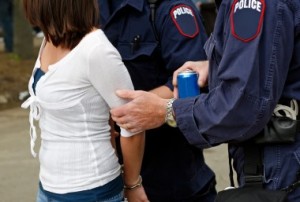 In March of this year, two deputies in Michigan responded to a call about a loud party with underage drinking. After they arrived, most of the partygoers ran away and it was later discovered that the deputies' tires were punctured by the juveniles as they were fleeing.  Last year, an officer in Massachusetts was injured while responding to an underage drinking party in Newport after the juvenile became combative.
These are just a few examples of how underage house parties have the potential to pose a significant danger to law enforcement officers.  Any situation that involves a group of individuals under the influence of one or more substances has the potential to become volatile.  Controlling a large group of impaired individuals can be difficult but proper handling of the call is imperative for officer safety.
The safest way to respond to an underage drinking party is through Controlled Party Dispersal.  Controlled Party Dispersal is an operational plan for shutting down underage drinking parties. It reduces liability to the officers and the department by incorporating crowd control measures, a planned approach and organization. The goal of Controlled Party Dispersal is to maximize effective and safe use of police resources in order to control and disperse underage drinking parties.
Accurate and safe party dispersal can reduce the negative consequences associated with underage drinking such as assaults, sexual assaults, alcohol poisoning and allow for the safe release of the subjects. With the proper adjustments, Controlled Party Dispersal is also an option for smaller departments or those located in a rural area who may need to request assistance from other agencies or utilize volunteers for routine tasks.
The FRIDAY class is an opportunity for any officer or department to learn the basics about Controlled Party Dispersal and begin implementing this vital program. To find out more information about the FRIDAY program or to schedule an 8 hour class, please visit our website at:
www.texasfriday.org or call us 1‐800‐848‐2088 x 207.
The A.D.A.P.T. Program –
Specialize Training for College Law Enforcement
The mission of the ADAPT program is the prevention of alcohol and drug abuse among college students in Texas through the increased training of campus law enforcement officers.  ADAPT

is a statewide training program for campus law enforcement officers funded through a grant received from the Texas Department of Transportation (TxDOT).
The ADAPT program has been developed under the guidance of law enforcement officers, the Texas Department of Transportation, campus law enforcement officers and staff from TMPA.
Curriculum:
DWI Enforcement on Campus
Drug Facilitated Sexual Assault
Hazing
Alcohol and Drug Abuse by College Students
Counterfeirt Identification
Officers who attend and successfully complete the course are eligible for 8 hours of TCLEOSE credit #6017 (Reducing Impaired Driving Adult/Youth)