Halloween party ends with parents and multiple teen arrested, teens trying to escape in flood waters rescued

November 2, 2015 — FRIENDSWOOD, TX (KTRK) — A Halloween party on the evening of October 31, in Friendswood, near Houston, resulted in 11 arrests and the deployment of rescue assets from three police agencies and the local fire department. The party was held at the home of Gregory Brian Kennedy, 56, and Kelly Meadows Kennedy, 56, of Friendswood, and was hosted by their 17-year-old daughter, Delaney Dawn Kennedy.   "I did not have a booze party for a bunch of teenagers," said homeowner Kelly Kennedy. "The whole time planning this, I said absolutely no alcohol will be tolerated."
Police received the first complaint about a loud party in the 700 block of N. Clear Creek Drive at 10:05 p.m. The caller told police that there were many young people attending the party, vehicles were blocking the roadway and they believed alcohol was present at the party.  Contact was made with the Kennedys who claimed there was no underage drinking going on and they agreed to shut down the party because of the complaints. At 11:23 p.m., police received more calls about the party.
When officers arrived, they heard the loud music and observed several teens walking in the street and sitting inside vehicles. Police estimate there were approximately 100 partygoers on the property, including the front yard, the back yard, the garage and the second floor porch. Teens, clearly underage, were walking around carrying beer bottles. A police unit pulled up in front of the house and approximately 20 teens took off running toward the creek and the adjacent wooded area. Piper Ellis, 18, of Friendswood, was charged with Evading Arrest and Resisting Arrest. She ran from police, was caught and struggled with the arresting officer who sustained a minor injury during the arrest.
An intoxicated 18-year old Friendswood teen was found on scene; he could not stand on his own or communicate with the officer. He was taken into custody but became seriously ill and unresponsive in the back of the police unit. Officers removed him from the police unit and called for medical assistance. He was transported to the hospital.
Officers evaluated the remaining 70 or so partygoers. Police identified all those who had consumed alcohol.  During that process, a 17-year old girl was taken into custody for Minor Consuming Alcohol and a 17-year old boy was arrested for Public Intoxication-Minor after an officer found him passed out in the middle of the roadway. The rest of the partygoers were released to sober drivers or responsible adults who arrived on scene.  Delaney Kennedy, the 17-year old party hostess, was charged with violating the open party ordinance and, her parents, Gregory Kennedy and Kelly Meadows Kennedy were charged with Furnishing Alcohol to Minors and violating the open party ordinance.
During the investigation, police say they found a baggie of crystal methamphetamine that was dropped on the driveway, and liquor and drug paraphernalia in the garage.
Several teens jumped into the flooded creek in an apparent effort escape from police, but later could not be located by friends, so police were called to help, prompting an immediate search and rescue operation. The fast current, darkness and debris in the waterway made this a dangerous rescue effort and the inclement weather grounded helicopter operations by Houston Police and the U. S. Coast Guard. Watercraft from Friendswood Police, Friendswood Volunteer Fire Department, Kemah Police, Kemah Fire Department, and Nassau Bay were deployed into the swollen creek. League City Police assisted by checking parks that bordered Clear Creek.
At approximately 1am, four of the missing teens who jumped into the creek were found safe. They were taken into custody for evading arrest.
Cities to "social host ordinances" laws to hold adults accountable for parties with underage drinking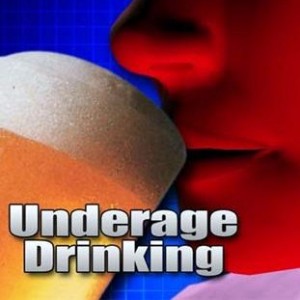 From fights and alcohol poisoning to sexual assault, car accidents and death, none of the unintended repercussions of underage drinking are positive.
Attempting to head such consequences off at the pass, Valley cities in AZ increasingly are turning to local "social host ordinances,"laws that hold adults accountable for permitting parties where kids and underage adults are drinking.  The Mesa ordinance would apply in situations ranging from gatherings at private homes to events thrown by "party crews" who charge underage guests to attend, and to illegal drugs as well as alcohol. A first-time violator would pay a $250 civil fine or attend a four-hour awareness course.
A second violation within three years would result in a $1,000 fine. A third violation, again within three years, would be a Class 1 misdemeanor punishable by up to six months in jail, a $2,500 fine and three years of probation.
"Over the last two years, we've written about 156 underage-drinking-related citations (while on party patrol). We've also sent eight individual juveniles to the hospital for drinking," Mesa Assistant Police Chief John Meza said. "The scope of the problem — we know that it's there. The goal of this ordinance is not necessarily to penalize criminally or through fines, however … The primary goal is for awareness."  The Mesa Prevention Alliance, which worked with police to develop the draft ordinance, found in its 2013-14 community survey that 30percent of Mesa respondents believed it was OK for kids to drink at home.
Finter described a party he'd observed while accompanying police officers on party patrol, where two minor girls "were being encouraged and enticed and heavily intoxicated to the point of requiring emergency medical assistance."
While Arizona law essentially requires police to prove that violators knew guests with access to alcohol were underage, some cities and towns have implemented social-host ordinances that typically allow for "strict liability." That means even parents who were on vacation and didn't know teenagers were throwing a party on their property could be held responsible and fined if a police officer is called to the scene.
Jim Mosher, a California-based expert on alcohol policy and social-host-ordinance consultant, argued property owners should be taking steps to secure their homes before leaving if they have underage relatives.  "These ordinances are about taking it from the passive, where maybe you're responsible after you've found out something bad has happened, to where homeowners and parents take proactive steps to not allow these parties," Mosher said. "We want to create a social norm where parents are making sure this doesn't happen on their property, and I think this is an appropriate way to do it because it doesn't criminalize or stigmatize people unless it becomes repetitive."
Mosher said social-host ordinances have been proliferating nationwide over the past decade, but specifics and implementation methods have varied based on community makeups.  Early adopters Tempe and Buckeye, for example, have distinct population breakdowns and neighborhood types.  In Tempe, where Arizona State University contributes to a massive underage student population, the city's social-host ordinance has allowed officers to "get a grasp on a very big problem," according to Tempe police spokesman Mike Pooley.