Lifesteps Substance Abuse Prevention Coalition implemented the Sticker Shock Campaign at 7-Eleven store in Georgetown, TX.  The campaign is intended to create alcohol awareness and reinforce compliance with existing laws, regulations and policies to reduce underage drinking.
Local youth and law enforcement Explorers from local high school assisted representatives from the Georgetown Police Department and the Texas Alcohol Beverage Commission to place yellow stickers on cartons of beer at the local store.  The purpose is to remind adults NOT to buy alcohol and provide it to minors (youth under the age of 21) and to remind cashiers not to sell alcohol to minors.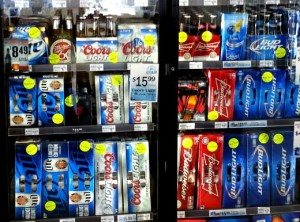 The law is clear: "It's illegal to provide alcohol to a person under 21" (other than your own child).   The stickers and posters used during the Campaign will reinforce the message about the penalties for providing alcohol to minors.  In Texas you can receive up to 1 year in jail and a fine of up to $4000 for providing/selling alcohol to a person under 21 years of age.  It is a Class A Misdemeanor.
LifeSteps gives a BIG THANK YOU to:   7-Eleven store, Wag-a-Bag, Georgetown Police Department, Texas Alcohol Beverage Commission and the wonderful youth from Eastview High School and Georgetown Law Enforcement Explorer Post.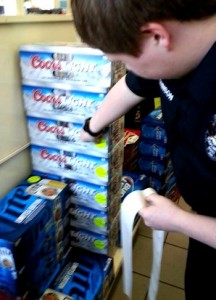 For more information, please contact LifeSteps Substance Abuse Coalition at (512)246-9880 or coalition@LifeStepsCouncil.org