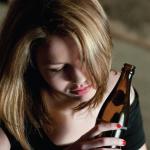 Think your teen has been using drugs or drinking? Here are 5 ways to find out if your hunch is right. And remember: Even if you can't find evidence, it's important for parents to always trust your gut — and take action by talking with your child and seeking help if necessary.  From the Parent Toolkit at: Drugfree.org
Use Your Nose. Have a real, face-to-face conversation your teenager comes home from a night out with friends, If your child has been drinking alcohol, smoking cigarettes, or smoking marijuana, the smell will be on his breath, his clothing and his hair.
Take a Closer Look. When your teenager gets back from going out with her friends, take a close look. Pay attention to her eyes (her eyes will be red and heavy lidded, with constricted pupils if she's been smoking marijuana); her pupils will be dilated, and she may have difficulty focusing on you, if she's been drinking. In addition, if she has red, flushed color to the face and cheeks she may have been drinking.
Watch for Mood Changes. How is your teen acting after a night out with friends? Is he loud and obnoxious, or laughing hysterically at nothing? Is he unusually clumsy to the point where he's stumbling into furniture and walls, tripping over his own feet and knocking things over? Is he sullen, withdrawn, and unusually tired and slack-eyed for the hour of night? Does he look queasy and stumble into the bathroom? These are all signs that he could have just been using some kind of illegal substance: alcohol, marijuana, or something else.
Monitor Driving and the Car. If you suspect your teenager has been using illicit substances recently, see if the car has any clues to offer. Is her driving is more reckless when she's coming home after being with her friends? Is there a new dent in the front of the car and she claims she knows nothing about it. If you're suspicious, examine the inside of the car too; Does it smell like marijuana smoke or alcohol fumes? Are there any bottles, pipes, bongs, or other drug paraphernalia rolling around on the floor or hidden in the glove box? If you find anything, challenge her on it immediately: be forthright, and tell her exactly what you've discovered and why you're concerned.
Keep an eye out for deceit or secretiveness. Are her weekend plans starting to sound a little fishy? Is she being vague about where she's going? Can she describe the movie she supposedly just saw? She says that parents will be at the parties she's going to but can't give you a phone number, and comes home acting intoxicated. She gets in way past her curfew or estimated time, and she's got a seemingly endless string of excuses to justify her behavior. When excuses fail, she'll respond to your inquiries and concern by telling you that it's none of your business. Something is wrong, and you need to figure out what she's really up to.
http://theparenttoolkit.org/en/article/5-ways-to-find-out-if-your-child-is-using-drugs-or-alcohol
Is Your Teen Using Drugs or Alcohol?  Signs and Symptoms of Substance Abuse …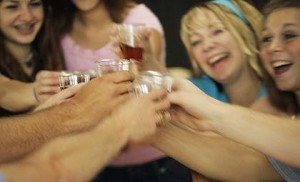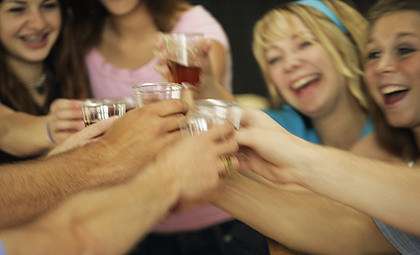 There's no easy way to figure out if your teen is using drugs or alcohol. As you'll see, many of the signs and symptoms of teen substance abuse listed below are also, at times, typical adolescent behavior. Many are also symptoms of mental health issues, including depression or anxiety disorders.
If you've noticed any of the changes related to substance abuse listed below, don't be afraid to come right out and ask your teen direct questions like "Have you been offered drugs?" If yes, "What did you do?" or "Have you been drinking or using drugs?" While no parent wants to hear a "yes" response to these questions, be prepared for it. Decide, in advance, how you'll respond to a "yes". Make sure you reassure your child that you're looking out for him or her, and that you only want the best for his or her future.
Of course, not all teens are going to fess up to drug or alcohol use, and a "no" could also mean your child is in need of help for mental health issues. That's why experts strongly recommend that you consider getting a professional assessment of your child with a pediatrician or child psychologist to find out what's going on. In the case of teen substance abuse, don't be afraid to err on the side of caution. Teaming up with professionals to help your teen is the best way to make sure he or she has a healthy future.
Personal Appearance
Messy, shows lack of caring for appearance
Poor hygiene
Red, flushed cheeks or face
Track marks on arms or legs (or long sleeves in warm weather to hide marks)
Burns or soot on fingers or lips (from "joints" or "roaches" burning down)
Personal Habits or Actions
Clenching teeth
Smell of smoke or other unusual smells on breath or on clothes
Chewing gum or mints to cover up breath
Heavy use of over-the-counter preparations to reduce eye reddening, nasal irritation, or bad breath
Frequently breaks curfew
Cash flow problems
Reckless driving, car accidents, or unexplained dents in the car
Avoiding eye contact
Locked doors
Going out every night
Secretive phone calls
"Munchies" or sudden appetite
Behavioral Issues Associated with Teen Substance Abuse
Change in relationships with family members or friends
Loss of inhibitions
Mood changes or emotional instability
Loud, obnoxious behavior
Laughing at nothing
Unusually clumsy, stumbling, lack of coordination, poor balance
Sullen, withdrawn, depressed
Unusually tired
Silent, uncommunicative
Hostility, anger, uncooperative behavior
Deceitful or secretive
Makes endless excuses
Decreased Motivation
Lethargic movement
Unable to speak intelligibly, slurred speech, or rapid-fire speech
Inability to focus
Hyperactivity
Unusually elated
Periods of sleeplessness or high energy, followed by long periods of "catch up" sleep
Disappearances for long periods of time
School- or Work-Related Issues
Truancy or loss of interest in schoolwork
Loss of interest in extracurricular activities, hobbies, or sports
Failure to fulfill responsibilities at school or work
Complaints from teachers or co-workers
Reports of intoxication at school or work
Health Issues Related to Teen Substance Abuse
Nosebleeds
Runny nose, not caused by allergies or a cold
Frequent sickness
Sores, spots around mouth
Queasy, nauseous
Seizures
Vomiting
Wetting lips or excessive thirst (known as "cotton mouth")
Sudden or dramatic weight loss or gain
Skin abrasions/bruises
Accidents or injuries
Depression
Headaches
Sweatiness
Home- or Car-Related
Disappearance of prescription of over-the-counter pills
Missing alcohol or cigarettes
Disappearance of money or valuables
Smell in the car or bottles, pipes, or bongs on floor or in glove box
Appearance of unusual containers or wrappers, or seeds left on surfaces used to clean marijuana, like Frisbees,
Appearance of unusual drug apparatuses, including pipes, rolling papers, small medicine bottles, eye drops, butane lighters, or makeshift smoking devices, like bongs made out of toilet paper rolls and aluminum foil
Hidden stashes of alcohol
Parents who set limits for children reduced risk that their adolescent children will binge drink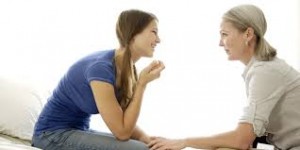 July 6, 2016 — KSTX: San Antonio — While a sense of inevitability often surrounds the topic of teen drinking, adults can play an important role in preventing underage alcohol use.
Two recent studies provide guidance for parents. One finds that parents who set limits in a warm and supportive environment reduced the risk that their adolescent children would binge drink. The other study reports on the potential of a home-based program that educates parents and children about alcohol prevention.
The stakes are high. About 1 in 6 teens drank alcohol before turning 13, and about the same proportion of high school kids has binged on alcohol, according to the latest biannual Youth Risk Behavior Survey by the Centers for Disease Control and Prevention. Overall, a third of teenagers drink — down from about half of teens 25 years ago, but still a problem.
"Although it is common for adolescents and young adults to try psychoactive substances, it is important that this experimentation not be condoned, facilitated, or trivialized by adults," notes the introduction to an updated screening protocol by the American Academy of Pediatrics. The group encourages doctors to ask adolescents about drug and alcohol use during routine visits.
At home, how Mom and Dad manage their roles — and the signals they send about alcohol use — affects their children's future drinking behavior.
Parenting style, drinking frequency, and expectations influence whether adolescents will binge drink, according to results of a study published in the July issue of Prevention Science. In the same issue, another study finds that a home-based prevention program given by parents to their elementary school-aged children made the kids less inclined to drink four years after the start of the program.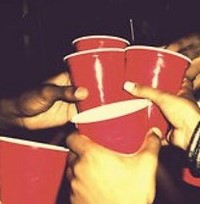 When adolescents drink, they tend to do so excessively, making the most of their limited access to alcohol. Binge drinking — consuming four, for females, or five, for males, drinks at a time — puts the imbiber at risk of fatal accidents, injuries, violence, and legal problems. Social psychologist William D. Crano at Claremont Graduate University in Claremont, Calif., and his colleagues wondered whether certain conditions in adolescence "had any predictive power for what's going to happen" in terms of alcohol use and incarceration.
The researchers looked at data from the National Longitudinal Study of Adolescent to Adult Health (Add Health), which has interviewed a nationally representative group four times, beginning in the 1994-1995 school year, when the participants were in seventh through 12th grades. The most recent survey occurred in 2008, when the respondents had reached ages ranging from 24 to 32. Parent interviews occurred in the first year of the project.
Crano and his group focused on four factors from the first wave of interviews:
whether parents monitored their teens,
the warmth parents expressed to their teens,
how frequently parents drank,
if parents thought their kids were drinking.
Adolescents whose parents neither kept an eye on them nor provided a supportive home environment were more likely to binge drink. These parental behaviors, along with underage drinking, predicted binge drinking as young adults. Furthermore, those who binged as teens and young adults were more likely to be arrested.
The study suggests that parents do make a difference. "Parental monitoring and warmth are a protective device against kids' binge drinking," says Crano. But the two need to go hand in hand. "If you have surveillance without warmth, you've got a problem," he adds. "You want the relationship between a parent and a child to be close enough and warm enough that the child discloses behaviors and what they are thinking, and the parent can offer advice" that reinforces rules but doesn't disparage the child.
The study also found that how often parents drank was predictive of teen and young adult binge drinking. While the survey didn't ask about the amount of alcohol consumed, the research supports the idea that parents' drinking behavior can send a powerful message to kids in terms of what is acceptable.
Finally, it was more likely that adolescents were drinking if their parents expected they were drinking. This self-fulfilling prophecy may stem from parents not intervening and educating their kids when they suspect alcohol use, says Crano, even though that is exactly what is needed.
Crano and his group argue that national prevention campaigns would do well to target parents, not just teens. "Parents are an easier audience," he says. "They are quite open to learning how to do better for their children."
Armed with the right information, parents can direct a prevention campaign in their own living rooms. Social ecologist Christine Jackson at RTI International in Durham, North Carolina, and colleagues there and at The University of North Carolina at Chapel Hill report on a home-based parenting program meant to counter parents' misconceptions about kids and alcohol, support communication in the family, and encourage parents to set rules regarding alcohol use.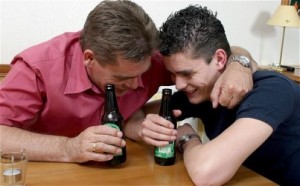 Jackson notes that a child's first taste of alcohol often comes from a drink offered by a parent. Contrary to the belief that sipping will satisfy kids' curiosity about alcohol and deter future drinking, previous work by Jackson and colleagues found that 5th-grade children permitted by parents to try an alcoholic beverage were twice as likely to drink in 7th grade as peers not granted sips.
"In the short term, allowing children to try alcohol simply teaches them that parents don't mind if they have alcohol," Jackson says. "In the long term, allowing children to have alcohol increases their odds of underage drinking during adolescence."
If kids have positive ideas about alcohol — for example, that drinking makes one popular — they are more likely to drink, notes Jackson. The program set out to provide alternative, protective ideas. It helped parents discuss how alcohol is harmful to children's health and commit to keeping kids alcohol-free. It also sought to empower kids to reject social pressures to drink.
To test the approach, the researchers recruited third-grade children and their mothers from school districts in three southern states, primarily North Carolina. Just over 1,000 children were randomly divided into two groups, one whose families received the five-month-long alcohol prevention program, and one provided with an obesity-prevention program for comparison. The materials included magazines, games and role-playing activities.
Jackson and her colleagues interviewed the kids about their beliefs and attitudes regarding alcohol before the program started. At the same time, they queried mothers about how often both parents drank and about the mother's racial and ethnic identity and education. In the second and third years of the study, families received a one-month booster program. Four years from the start of the program, the researchers asked the kids again about their alcohol-related beliefs and attitudes.
The third-graders who had received the alcohol prevention program were significantly less inclined to drink at the four-year follow-up, when they were in seventh grade, than those in the obesity program. This was true regardless of their parents' drinking habits or mother's education, race or ethnicity. "This means that the program has a sustained effect on children's attitudes and intentions about alcohol use," says Jackson.
Kids develop ideas about alcohol with or without their parents' direct input. "Encourage conversation with kids about issues that are important to them," says Crano. "You want to be the person to help them."
Aimee Cunningham is a freelance science journalist based in the Washington, D.C., area.
Prevention is all about persuasion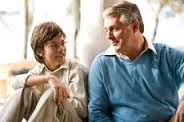 "I heard this nugget of wisdom at a training seminar for prevention professionals. It represents a paradigm shift in the way substance abuse professionals approach prevention – one that has been supported by years of research, but is still not implemented by many prevention providers, says Theodore Caputi, a student at the Wharton School of Business at the University of Pennsylvania and serves as Vice Chair of the Board of Directors for the Bucks County (Pennsylvania) Drug & Alcohol Commission.
"Think about it. Much of drug and alcohol programming focuses on education. I could not tell you how many boring lectures I have endured about the street names for PCP – I have learned that marijuana can be inhaled, digested or absorbed through the skin – but it certainly has not persuaded me to change my behavior.
"The truth is, we don't need to spend much time giving kids the "facts" on drugs. Most young people already know that "weed" is a street name for marijuana or that long-term heavy drinking can lead to alcoholism. Instead, we need to persuade kids to either reduce or refuse drug use.  Of course, not all forms of persuasion are equally effective.
"Persuasion in drug education usually boils down to a discussion about the health consequences of drugs. Kids are told that their lungs will turn black if they smoke tobacco, that they'll have liver failure if they drink too much and that they may overdose from prescription painkillers. True, that is persuasion – teaching young people the consequences of substance use is an attempt to tip the scale in favor of not using.
"Kids take their good health for granted. I am a health researcher, and I am writing this post while eating Oreos and sipping on a Red Bull. I know that Oreos and Red Bull will hurt me in the long run –  but I'm 20 years old, and my long-term health is not keeping me up at night.  We need to communicate prevention in terms that kids understand and appreciate, and we need young people to understand that drugs and alcohol will interfere with things they personally care about.
"In the words of Harvard Marketing Professor Theodore Levitt, "People don't want to buy a quarter-inch drill. They want to buy a quarter-inch hole!" Prevention providers need to stop selling the drill and start selling the hole. But, if not health, what do young people care about?  This is the tricky part. Different kids care about different things, and prevention should seek to engage everyone.
"Therefore, I argue that, as a part of prevention, we should have teens develop their own, personal short- and long-term goals. Teens will begin thinking about what they want to do and accomplish, and discuss how drugs and alcohol can interfere with their specific grand plans.  Persuasion is key to making prevention work. So let's make the argument for prevention more persuasive. Show young people that drug and alcohol use will hinder their goals and dreams, and we can increase the effectiveness of our prevention efforts.
Searching Your Child's Room?
Your rule is NO alcohol, NO drugs. Period.
Searching your child's room should be a decision you are able to defend. If you notice any change in your child's behavior, unusual odors wafting into the hallway from their room (like pot and cigarette smoke), smells to mask other smells such as incense or Lysol spray, or other warning signs you need to find out what's going on behind that "KEEP OUT" sign. Your child needs to understand that the limits you set with them do not stop at their bedroom door.
If you have decided not to tell your child about the search, be prepared to explain your reasons to them if she catches you mid-search. Let your child know that you are doing it out of concern for his or her health and safety. If you discover that your kid is not drinking or doing drugs, this could be a good time to find out if there's something else that may be on her mind.
Where to Look
Kids come up with some crafty places to conceal alcohol, drugs, and drug paraphernalia. Here's a short list of some possible hiding spots:
Dresser drawers beneath or between clothes
Desk drawers
CD/DVD/Tape/Video cases
Small boxes – jewelry, pencil, etc.
Backpacks/duffle bags
Under a bed
In a plant, buried in the dirt
In between books on a bookshelf
Inside books with pages cut out
Makeup cases – inside fake lipstick tubes or compacts
Under a loose plank in floor boards
Inside over-the-counter medicine containers (Tylenol, Advil, etc.)
Inside empty candy bags such as M&Ms or Skittles
Also, search your teen's cell phone speed dial list or instant message buddy lists on the computer for names you haven't heard of before. Ask your teen about any names you don't recognize.
If You Find Alcohol, Drugs or Drug Paraphernalia
Don't dance around the topic. Ask your child about the items you found.
He might try to fight back by saying your search was unfair and that you found things the wrong way by invading his privacy. Stand by your decision to search his room and ignore the argument. Your rule is NO drugs. Period.  Found a substance, but don't know what it is? Our Drug Guide may help you identify it.