Lynn Hoare, Theatre for Dialogue specialist with Voices Against Violence, said statistics for sexual assault crimes are hard to gather, because many victims do not come forward. She said national surveys indicate one in five women will be sexually assaulted in their lifetime and 92 percent will know their assaulter.
Hoare said alcohol is a factor in 70 percent of assaults.
The Theatre group presents difficulty of interpreting consent in sexual situations and examined how consent is negotiated. Consent was defined as getting permission with a verbal confirmation of what each sexual partner is comfortable with and protection they plan to use.
The program uses peer educators to create awareness about relationship violence, stalking and sexual violence.
Avoiding the Sexual Consequences of Binge Drinking
Imagine lying in bed the morning after a binge as you reconstruct the night. Oh right! Now you remember going from the first party to the second. You remember the drink that put you over the edge. And you barely remember ending up in a bedroom, your clothes falling away.  What did you do? Some binge drinkers aren't this lucky; they know even that night in the haze of many drinks that what's happening in the bedroom isn't right – what they're doing or having done to them is forced or unsafe or not anything at all that they want.
Drinking leads to sexual consequences ranging from reckless and risky behavior to sexual assault and rape. Here are four proven ways to keep yourself or the people you care about safe from the negative consequences of sex while drinking.
1. Have a Sober Companion
We all know about designated drivers. Drawing straws to see who drives can keep you from making the ultimate bad decision to put your life and others at risk by driving under the influence. But what about all the other bad decisions you can make while drinking? The fact is, past a certain threshold, you can no longer trust yourself to make good sexual decisions.  A sober companion can not only be keeper of the car keys, but can help you know when it's not okay to "just go upstairs for a couple minutes" or can help you see when that special someone is drunk past the point of being able to offer consent. A sober companion can keep you safe.
2. Stop Short of Blacking Out
By now you probably know your limit. But unfortunately, this study shows that many problem drinkers consider their limit to be the point of sickness or blacking out. For women and for men of all sexual orientations, blacking out is a major risk factor for dangerous sexual activity, be it unprotected or non-consensual sex. If you know you're prone to drinking until you pass out, there are many strategies you can use to cap your drinking: consider supplying yourself with a limited number of "drink tickets" before you start the night – these can be as simple as rubber bands around your wrist. Or avoid pre-drinking and choose to drink slowly.
3. Stick Together
Even if your group doesn't happen to include a sober companion, simply making the decision to stick together can help keep you safe from sexual consequences. When you go from the first party to the second, take a head count. You know that you wouldn't want to be the person left behind and so you can make the decision as a group not to leave anyone behind.
4. Know When to Doubt Your Decisions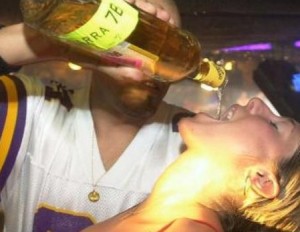 Drinking makes your brain physically incapable of making good social decisions. This article on early view at the journal Addictive Behaviors shows that alcohol decimates your ability to judge if someone has good or bad intentions, and even affects your ability to recognize social cues like sarcasm. With alcohol, you lose the ability to make judgments based on facial expressions and body language; you stop being able to place social cues in context and to imagine the consequences of your actions; this blunt edge to your ability to be "on your game" leads to real-world sexual consequences. You may truly think you can trust a person who seems to be so into you, when really you can't trust this person at all. Most important, when you're drinking, know that you can't trust yourself.
The key to staying sexually safe is to address and manage problem drinking behaviors themselves. It's like walking a tightrope; no matter how well you manage the risk, if you do it enough times, eventually you're going to fall. If problem drinking or addiction puts your sexual health at risk, consider seeking treatment. With help you can finally get off the tightrope that puts you in danger.
Richard Taite is founder and CEO of Cliffside Malibu, offering evidence-based, individualized addiction treatment based on the Stages of Change model. He is also coauthor with Constance Scharff of the book Ending Addiction for Good.
Student op-ed argues 'drinking responsibly' may reduce risk of rape; others debate victim's role vs. rapist
(CNN) — 11/05/13 — The editorial ran on the opinion page of Southern Methodist University's student-run newspaper on November 1: "Drinking responsibly may reduce risk factor."  In The Daily Campus column, Southern Methodist journalism major Kirby Wiley wrote that the best way for women to prevent sexual assaults "is to never drink so much that they cannot control themselves."
Men might be less likely to try to take advantage if women "quit putting themselves in situations where they appear vulnerable," she wrote. "If the media would focus more attention on the fact that the majority of the women who are sexually assaulted are intoxicated, as opposed to stating and restating how horrible the perpetrator is, then maybe young women would start to listen.
"The details on the offenders should not be omitted, but how are young women supposed to learn from the incident when they don't know the details?"
The editorial was picked up into the ongoing national debate over how much responsibility potential victims of sexual assault bear. It's a position that researchers say is flawed because it creates a false sense of security by making people think they can control willful criminal behavior. They also say it distracts from more effective approaches to rape prevention, such as bystander intervention and policies that target perpetrators.
Wiley's column picked up on some sentiments from Slate contributor Emily Yoffe, who suggested last month that "a misplaced fear of blaming the victim has made it somehow unacceptable to warn inexperienced young women that when they get wasted, they are putting themselves in potential peril."  Yoffe's column, "College Women: Stop Getting Drunk" stirred impassioned conversation about drinking culture on campuses.
It led to a rebuttal on Jezebel, in which writer Erin Gloria Ryan accused Yoffe of victim blaming, and a conversation in The New York Times "Room for Debate" blog that offered several viewpoints on victim blaming, binge drinking and the line between protection and prevention.
The column was inspired by media coverage of rape allegations in her hometown of Nashville, in which four former Vanderbilt University football players are accused of raping an unconscious female student in June. A fifth football player pleaded guilty to helping cover up the alleged on-campus gang rape.  "Being from Nashville and watching the coverage of the Vanderbilt rape case, I appreciated that the perpetrators names and faces were reported, but I was also shocked by lack of explanation on the unconscious victim. As a woman in college myself, I believe knowing the full details of the case would benefit the safety of all college women," Wiley said in an e-mail to CNN.
"The purpose of my column was to call the media's attention to an often overlooked side of sexual assault and rape cases on and around college campuses — the all too common intoxication of victims. I feel the facts of a woman being too intoxicated should also be included in reports, not to place blame or any additional stress on the victim, but rather to inform other women of this factor that studies have shown increases the risk of sexual assaults."
Research shows that focusing on victims' behavior is an ineffective strategy in rape prevention because it doesn't work, said Caroline Heldman, an associate professor of politics at Occidental University. To the contrary, it conveys the false impression that people can control the actions of perpetrators, while most assaults are planned by serial offenders who start their night in search of easy prey, Heldman said.
The argument that binge drinking increases the likelihood of getting raped is illogical, she said, because it would imply that men (who are known to binge drink at higher rates) would also be targets of sexual assault, she said.  "What you're really saying is you can't be female and engage in college party life," Heldman said.  It's important to talk to college-aged students, male and female, about the health risks of binge drinking, she said. But when it comes to preventing sexual assault, conversations about hookup culture, the giving and seeking verbal consent — and intervening when something seems wrong — are just as important, she said.  "If I were a parent, I would talk about communication and sex, about having the confidence to say no in social settings," she said. "Hookup culture raises the moral hackles of previous generations so it make us feel better to say don't have sex and don't drink.  "But it's unrealistic advice."
NEWS  –  Three men arrested after kidnapping and sexually assaulting sisters leaving Austin Sixth Street
August 7, 2013 — American-Statesman
(GAUDPC comment:  although the sisters were not under the age of 21, this story definitely speaks to the concern of alcohol facilitated sexual assault.)
Travis County sheriff's deputies have charged three men with kidnapping and sexually assaulting two sisters that they met on East Sixth Street last month, according to arrest affidavits.
The sisters, a 29-year-old and a 24 year-old visiting from San Marcos, told deputies that they had both been drinking downtown during the early morning of July 28 when one of them lost her keys and cell phone. After the bars had closed, the women got into a car with three men who had offered to give them a ride to the hotel where the women were staying.   Johnny Andrade, 22, George Adrian Gabino, 20 and Destin Edinborough, 22 were each charged with aggravated kidnapping and aggravated sexual assault. Edinborough and Andrade were being held at Travis County Jail on Monday with bail set at $300,000.
The women told deputies that they soon realized that they weren't going to their hotel. The men instead took them to Imperial Drive near Webberville Road in eastern Travis County, an affidavit said.  The women jumped out of the car while it was stopped and ran away, and two of the men chased them, the affidavit said. One woman got away. The other was knocked down and dragged back into the car where the men sexually assaulted her, an affidavit says. The woman said Edinborough cut her across the cheek with a knife after she slapped him, the affidavit said.
After the attack, the woman was dropped off and found her sister and the pair called police from a nearby home.   "Right now, it seems like a crime of opportunity," sheriff's spokeswoman Lisa Block said. "You can't trust strangers, unfortunately."