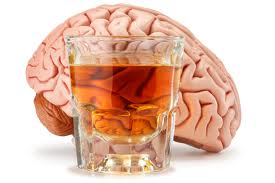 Difficulty walking, blurred vision, slurred speech, slowed reaction times, impaired memory: Clearly, alcohol affects the brain. Some of these impairments are detectable after only one or two drinks and quickly resolve when drinking stops. On the other hand, a person who drinks heavily over a long period of time may have brain deficits that persist well after he or she achieves sobriety. Exactly how alcohol affects the brain and the likelihood of reversing the impact of heavy drinking on the brain remain hot topics in alcohol research today. We do know that heavy drinking may have extensive and far–reaching effects on the brain, ranging from simple "slips" in memory to permanent and debilitating conditions that require lifetime custodial care. And even moderate drinking leads to short–term impairment, as shown by extensive research on the impact of drinking on driving. A number of factors influence how and to what extent alcohol affects the brain, including
how much and how often a person drinks;

the age at which he or she first began drinking, and how long he or she has been drinking;

the person's age, level of education, gender, genetic background, and family history of alcoholism;

whether he or she is at risk as a result of prenatal alcohol exposure; and

his or her general health status.
BLACKOUTS AND MEMORY LAPSES
Alcohol can produce detectable impairments in memory after only a few drinks and, as the amount of alcohol increases, so does the degree of impairment. Large quantities of alcohol, especially when consumed quickly and on an empty stomach, can produce a blackout, or an interval of time for which the intoxicated person cannot recall key details of events, or even entire events. Blackouts are much more common among social drinkers than previously assumed and should be viewed as a potential consequence of acute intoxication regardless of age or whether the drinker is clinically dependent on alcohol . White and colleagues surveyed 772 college undergraduates about their experiences with blackouts and asked, "Have you ever awoken after a night of drinking not able to remember things that you did or places that you went?" Of the students who had ever consumed alcohol, 51 percent reported blacking out at some point in their lives, and 40 percent reported experiencing a blackout in the year before the survey. Of those who reported drinking in the 2 weeks before the survey, 9.4 percent said they blacked out during that time. The students reported learning later that they had participated in a wide range of potentially dangerous events they could not remember, including vandalism, unprotected sex, and driving.
Binge Drinking and Blackouts

• Drinkers who experience blackouts typically drink too much and too quickly, which causes their blood alcohol levels to rise very rapidly. College students may be at particular risk for experiencing a blackout, as an alarming number of college students engage in binge drinking. Binge drinking, for a typical adult, is defined as consuming five or more drinks in about 2 hours for men, or four or more drinks for women.
People who have been drinking large amounts of alcohol for long periods of time run the risk of developing serious and persistent changes in the brain. Damage may be a result of the direct effects of alcohol on the brain or may result indirectly, from a poor general health status or from severe liver disease. For example, thiamine deficiency is a common occurrence in people with alcoholism and results from poor overall nutrition. Thiamine, also known as vitamin B1, is an essential nutrient required by all tissues, including the brain. Thiamine is found in foods such as meat and poultry; whole grain cereals; nuts; and dried beans, peas, and soybeans. Many foods in the United States commonly are fortified with thiamine, including breads and cereals. As a result, most people consume sufficient amounts of thiamine in their diets. The typical intake for most Americans is 2 mg/day; the Recommended Daily Allowance is 1.2 mg/day for men and 1.1 mg/day for women.
Human Brain

Schematic drawing of the human brain, showing regions vulnerable to alcoholism-related abnormalities.
LIVER DISEASE
Most people realize that heavy, long–term drinking can damage the liver, the organ chiefly responsible for breaking down alcohol into harmless byproducts and clearing it from the body. But people may not be aware that prolonged liver dysfunction, such as liver cirrhosis resulting from excessive alcohol consumption, can harm the brain, leading to a serious and potentially fatal brain disorder known as hepatic encephalopathy. Hepatic encephalopathy can cause changes in sleep patterns, mood, and personality; psychiatric conditions such as anxiety and depression; severe cognitive effects such as shortened attention span; and problems with coordination such as a flapping or shaking of the hands (called asterixis). In the most serious cases, patients may slip into a coma (i.e., hepatic coma), which can be fatal. New imaging techniques have enabled researchers to study specific brain regions in patients with alcoholic liver disease, giving them a better understanding of how hepatic encephalopathy develops. These studies have confirmed that at least two toxic substances, ammonia and manganese, have a role in the development of hepatic encephalopathy. Alcohol–damaged liver cells allow excess amounts of these harmful byproducts to enter the brain, thus harming brain cells. 
SUMMARY


Alcoholics are not all alike. They experience different degrees of impairment, and the disease has different origins for different people. Consequently, researchers have not found conclusive evidence that any one variable is solely responsible for the brain deficits found in alcoholics. Characterizing what makes some alcoholics vulnerable to brain damage whereas others are not remains the subject of active research (34).

The good news is that most alcoholics with cognitive impairment show at least some improvement in brain structure and functioning within a year of abstinence, though some people take much longer (35–37). Clinicians must consider a variety of treatment methods to help people stop drinking and to recover from alcohol–related brain impairments, and tailor these treatments to the individual patient.

Advanced technology will have an important role in developing these therapies. Clinicians can use brain–imaging techniques to monitor the course and success of treatment, because imaging can reveal structural, functional, and biochemical changes in living patients over time. Promising new medications also are in the early stages of development, as researchers strive to design therapies that can help prevent alcohol's harmful effects and promote the growth of new brain cells to take the place of those that have been damaged by alcohol.
About NIAAA
The National Institute on Alcohol Abuse and Alcoholism (NIAAA) is one of the 27 institutes and centers that comprise the National Institutes of Health (NIH). NIAAA supports and conducts research on the impact of alcohol use on human health and well-being. It is the largest funder of alcohol research in the world.