Austin Police Chief says biggest problem in downtown Austin is bars overserving alcohol to patrons
Fri., Nov. 2, 2012; AUSTIN CHRONICLE — "A lot of alcohol is driving crime in a small area (downtown)," he (Austin Police Chief, Art Acevedo) said. "The biggest problem I see is bars overserving people. That is a big piece of it." He said it's likely that college students make up the lion's share of APD's public intoxication reports.
$1 million paid by bar in over-serving case in 2012 Houston area wrong-way car crash
Posted: Monday, April 2, 2013 | The Courier of Montgomery County
A local sports bar agreed to a million-dollar settlement in a wrong-way crash last summer that left two dead and one critically injured.  The insurance carrier for On the Rox Sports Bar and Grill on in Montgomery County, Texas agreed to pay $1 million to David Francisco Porras – the lone survivor of the June 29, 2012 crash – and to the estates of Nicole Adams and Travis Ryan Saunders, the attorney for Porras said.
Adams, 19, of Conroe, and Saunders, 18, of Houston, died at the scene when Nicole Baukus allegedly drove the wrong way on Interstate 45 near Texas 242, colliding head-on with a vehicle driven by Adams.
Lawyers for the plaintiffs sued the bar for violating Texas' Dram Shop Liability Act, which provides a cause of action against any dram shop (bar) that serves alcoholic beverages to an obviously intoxicated adult.
Court documents show Baukus, 23, of Spring, had a blood alcohol level of .286, more than three times the state's legal limit. Leigh said Baukus' blood alcohol content and the bar's own surveillance video from the night of the fatal crash were "powerful" evidence.
Austin downtown bars face separate lawsuits in fatal wrecks; "over-serving" by bartenders cited in suits
Monday, June 3, 2013 – American-Statesman Staff — The parents of two men killed in unrelated drunken driving-related crashes are suing Lustre Pearl and the Blind Pig Pub, saying they over-served their sons' drivers, according to court documents.
The suits allege that the downtown bars and employees continued to sell alcohol to the "clearly intoxicated" drivers to the point where they were in "clear danger" to themselves and others.
The suits against the bars were filed last week in Travis County district court. W. Gary and Mary E. Whittington, both from Corpus Christi, filed the suit against Lustre Pearl, the driver Madeline Rackley, bartenders Matthew R. Yager and Natalie L. Cruz, and the bar's owner Bridget Dunlap and her husband Chris Parker.
"We want to make sure that the bar owners, Bridget Dunlap in particular, understand their obligation under the law to not over-serve customers because it can have deadly consequences," said Kathryn Snapka, the attorney representing the Whittingtons.
Rackley, 26, was charged with intoxication manslaughter after police say she drove a Honda Civic down a boat ramp and into the lake July 1.
She and a front-seat passenger were able to get out of the car, but San Marcos resident Jarrett Ryan Whittington, 25, was unable to escape and died.  The Whittingtons want more than $100,000 in damages.
John Peart and Sherry Peart are suing the Blind Pig after their son Christopher Johnson-Peart, 22, was ejected from a vehicle that was traveling the wrong-way on Ben White Boulevard near Lamar Boulevard and hit a delivery truck during the early hours of Sept. 21, 2011.  The Pearts did not specify an amount in damages.
Erica Lynn Nash-Wood, 24, pleaded guilty May 2 to intoxication manslaughter with a vehicle and aggravated assault with a deadly weapon and was sentenced to 120 days in jail as a condition of two stacked 10-year sentences that were probated. She will have to drive a vehicle with an ignition interlock for five years after her release, according to court records and Travis County officials.  After an investigation in March, the Texas Alcoholic Beverage Commission also determined the Lustre Pearl over-served Rackley.
"You can only go so far in your quest to become the queen of the bars on Rainey Street," Snapka said about Dunlap, who also owns two other bars in the area. "You have to do it in a responsible, law-abiding fashion."
Wrongful Death Suit Filed Against Alcohol Provider in Drunk Driving Death in San Marcos
 AUSTIN, TX, Apr 25, 2013 (Marketwired via COMTEX) — A suit  filed within the 200th Judicial District of Travis County alleges the victim was drinking at a local Pluckers restaurant in San Marcos, Texas, on or about the evening of September 13, 2012. The victim was allegedly served alcohol to the point of intoxication, and continued service thereafter. The suit alleges Pluckers knew of the victim's obvious state of intoxication, such that he presented a danger to himself and to others. Following this service, and allegedly in an intoxicated state, the victim left the restaurant and struck the rear of a delivery truck, sustaining fatal injuries from the collision.
The suit asserts dram shop and vicarious liability causes of action, as employees who allegedly served alcohol to the victim were operating within the course and scope of their employment. Austin attorney Keith Purdue said concerning the lawsuit, "According to the TABC, and codified within the Texas Alcoholic Beverage Code, licensed providers of alcohol have a duty to their customers to refrain from service once a patron becomes intoxicated. While we certainly understand the issues involved in representing the estate of an intoxicated driver, this suit takes aim at the typical genesis of these types of accidents, the alcohol provider."
Indeed the Texas Alcoholic Beverage Code was enacted to define a cause of action when it can be proven that the service of alcohol, to an "obviously intoxicated" individual was the "proximate cause of the damages suffered." Tex. Alco. Bev. Code Ann. § 2.02(b). Attorney Purdue continues, "To become a licensed alcohol provider, the TABC requires employers and employees to undergo training, and specifically, training in identifying the signs of intoxication. Intuitively, everyone understands the problems associated with continually serving an already intoxicated individual, and the Texas Alcoholic Beverage Code codifies these concerns."
Attorney Purdue continues, "This is notable, because the code applies to every licensed alcohol provider, even the less traditional providers like the defendant. Our suit is in line with the spirit of the law; if you sell alcohol to the public, these rules apply to you, and you must be safe and responsible about it."
TABC cites Hooters in Beaumont TX for over-serving man who caused fatal accident in July 2012
BEAUMONT – 12NEWS – April 12, 2013
A Beaumont restaurant has been cited by the Texas Alcoholic Beverage Commission.  The enforcement action against Hooters stems from a fatal drunk driving accident in Beaumont  on July 30, 2012.  Derek McBride is serving 8 years in prison as a result of the fatal crash.
According to a TABC report obtained by 12 News, in just over 4-and-a-half hours McBride was served six 25-ounce beers, a Bloody Mary, a shot of Vodka and a shot of Jack Daniels.  The bar chose to pay a $15,000 fine leveled by TABC.  The restaurant is also being sued by the mother of the female victim.
TABC suspect "overserving of alcohol" in crash that killed Lumberton teen on Feb 15, 2013.
The Texas Alcoholic Beverage Commission is investigating the death of a 19-year-old Lumberton woman who they believe may have been overserved in the hours leading up to her fatal car accident.  Although there has been no confirmation that Sarah Comstock was drinking before her Feb. 15 accident, TABC Lt. Jeff Taylor said the department considers alcohol a possible factor in the crash.
Comstock was driving  in the northbound lane of U.S. 69 when she lost control and struck a center concrete barrier and another vehicle traveling in the northbound lane of U.S. 69 hit her car.
Texas Lawmakers consider strengthening laws to encourage bar owners to not "overserve" patrons
The Houston Chronicle —  July 14, 2013 — Prosecutors, plaintiffs' attorneys and lawmakers say over-serving by bar and restaurant staff is a serious problem in Texas that is sometimes overshadowed by anti-DWI enforcement and drunken-driving awareness programs. They say the state's alcohol regulatory agency – hit by staff reductions – also has brought fewer criminal and administrative sanctions against servers.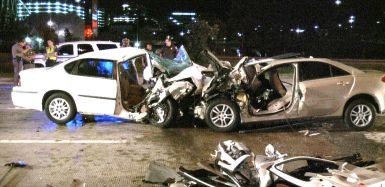 State Sen. John Whitmire, D-Houston, believes laws should be strengthened to encourage bar owners to make sure employees don't over-serve customers, including significantly increasing criminal penalties.
Currently, it is a misdemeanor offense to serve an intoxicated person or for an employee to drink in a business with a liquor license, punishable by up to a $500 fine and a year in jail.
"It ought to be easier to hold them accountable, not only civilly but criminally, because that might serve as a better deterrent," Whitmire said. "My goal would be to prevent these tragedies by having harsh criminal penalties, including incarceration, against those that engage in serving somebody so much alcohol that they're sending a missile down the road."
The astonishing level of intoxication of a pair of motorists who caused five deaths by driving the wrong way in the Summer of 2012 in Montgomery County shocked even the most seasoned observers in a region where DWI-related deaths are sadly commonplace.
One of those drivers – a man who had been drinking at a bar near The Woodlands – is suspected of downing a whopping 22 beers.  The other driver, a woman, allegedly consumed at least 20 alcoholic beverages in the same area before a fatal accident early June 29.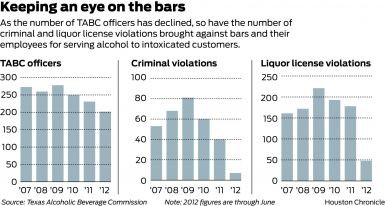 A Houston Chronicle analysis of Texas Alcohol Beverage Commission enforcement records shows that criminal prosecutions against establishments or their employees are rare.
"We found through those investigations that individuals have been over-serving alcohol beverages to an inexcusable amount," said Assistant District Attorney Warren Diepraam. "For example, one person had been served 22 alcoholic beverages and another 20."
"I'm still trying to figure out exactly what the cause is, but I do know that there has been a decrease in enforcement efforts in the bars as a result of budget cuts and staffing shortages at TABC," Diepraam said. "It's impossible for one agent to conduct law enforcement investigations in 800 different establishments."
Maj. Robert Saenz, with TABC' says, "Our investigation is looking at the source of the over-serving of alcohol," he said. "We're trying to determine who all there gave these people alcohol when they were already intoxicated."
Former Harris County prosecutor Will Womble has three lawsuits pending against local clubs where customers and an employee were served too much alcohol. Those patrons left the clubs and killed two motorists and permanently disabled a third.
"You've got people who are making money and profiting by over-serving an individual, and letting them get on the road," Womble said. "It's a ticking time bomb, and bars and restaurants are loading the gun with a drunk and pulling the trigger by letting them get on the open road."